Cross-Sites Convening
Each fall, more than 200 education leaders join union-district teams from the NEA Foundation's Closing the Achievement Gaps and Institute for Innovation in Teaching and Learning initiatives, in Washington, DC, to engage in powerful discussions led by nationally renowned thought leaders, and, most importantly, work collaboratively to apply this knowledge to inform their work plans to improve learning conditions and student performance at home.
"Voices for Excellence and Equity: Students, Educators, and Communities Speak Out"
On October 16-17, 2014, the NEA Foundation convened 18 of its union-district leadership teams. Did you miss the live streaming coverage?
Watch videos of all the keynote speakers and panel discussions below.
Marian Wright Edelman: "Let us Leave No Child Behind"
In her remarks, Marian Wright Edelman, President of the Children's Defense Fund, furthers the notion of collaboration as a necessary process for solving persistent failure and inequality, and inspires critical self-awareness and hope among partners.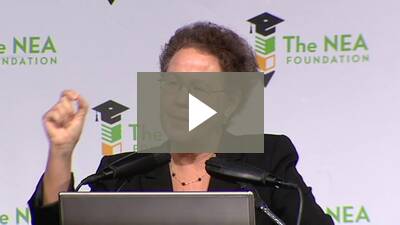 Linda Darling-Hammond: "Enough is Known for Action"
In her remarks, Linda Darling Hammond, C.E. Ducommun Professor of Education, Stanford Graduate School of Education, discusses how research, best practice and leadership is converging on a set of policy and practice levers to ensure that equality and excellence can be achieved systemically.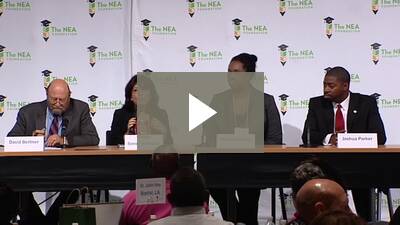 Master Teachers Speak: Communities, Unions and Districts Listen
What contributes to the trajectory of a master teacher and how can districts, unions, and communities help? Three master teachers share their stories, moderated by David Berliner, Regents' Professor of Education Emeritus at Arizona State University.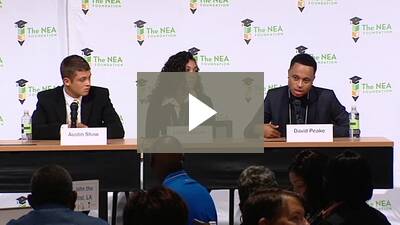 Students Speak: Communities, Unions and Districts Listen
How can union-district teams do differently to embrace students as partners? Michael Nakkula, Practice Professor, Chair, Applied Psychology and Human Development, University of Pennsylvania, moderates a panel of student leaders who share their perspectives on the "hot topics" that most directly impinge on their academic success, development, and sense of well-being.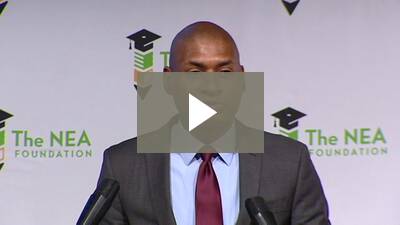 Charles Blow: "Leading with Hope and Courage in Uncertain Times"
How can leaders transcend ideological or political divides as a moral imperative of effective leadership on behalf of all children? Charles Blow, The New York Times' Visual Op-Ed Columnist draws on his experience as a student of color and as one of nation's most incisive and compassionate cultural critics.