Featured Grantees
Every year, the NEA Foundation awards more than 150 grants to support public school educators' innovative ideas. On average, each grant impacts the learning of 200 students. Below you will find examples of just a handful of the many exemplary projects brought to fruition by our grantees. We hope that the creativity displayed by these educators will inspire not only those considering applying for a grant, but also educators looking for unique learning lessons to replicate.
Featured Videos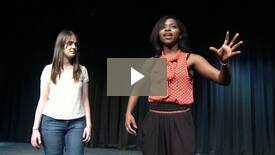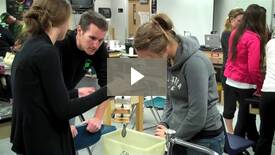 NEA Foundation Grantee Leslie NEA Foundation Grantee George Barlow's
Chekin's "Theatre Without Borders" students test environmentally-friendly
brings non-native English speakers antifouling.
to the stage.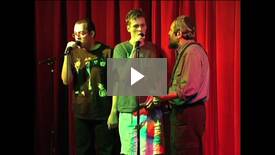 NEA Foundation Grantee David Lazerson
facilitates music for special needs
students.
Featured Q&As
Annotating the Classics
NEA Foundation Grantee Jenna Hixson says her students can't just watch a movie anymore.
Tell us about your plans for your NEA Foundation grant project.
Half of my students are economically disadvantaged and have no access at home to literature. So I decided to use my NEA Foundation grant to combine the higher-level thinking skill of annotating— a way for students to hone critical analysis skills— with the means, access to literature that they could then use to build a home library.
How do you think your NEA Foundation grant money will help your students?
My students are taking ownership of classic pieces of literature. They are excited to highlight literary devices or discuss annotations, curious to see if their peers found the same ideas or if they were innovative and original in their thinking and analysis.
What is your passion— in or outside the classroom?
I think literacy provides a means for bridging societal gaps and helping all students succeed. Whether it's putting novels into the hands of teenagers or children's books into the hands of kindergartners, with my "Reading Buddies High School Mentor Program," I want children to see what literature and education in general can do for their self-esteem and future.
Describe an "a-ha" moment, when you or your students (or both) have experienced a transformation in your thinking or learning.
I have told my students on numerous occasions that seeing their highlighted sections and handwritten marginal notes are more beautiful to me than any Picasso painting. One student asked if I wanted framed pages for Christmas this year. I also thought a major "a-ha" moment was when one student said that he can't even watch movies anymore without noticing symbolism and wanting to annotate.
Jenna Hixson teaches language arts at Southmoreland High School in Alverton, PA.
On Second Chances and Hope
NEA Foundation Grantee Cassie Cox on second chances and hope— through education.
Tell us about your plans for your NEA Foundation funded grant project.
The grant provided funding for me to attend the National Council for Teachers of English (NCTE) Convention. For four days, I was immersed in learning and surrounded by people who love the same things I do—teaching and students. Teachers and presenters from all over the country led workshops on their areas of expertise. I love teaching students, and I love teaching teachers. Actually, it's what I do best in life. All throughout the school year I am called upon to train and teach others; rarely am I given the opportunity to be trained or to be taught. The NCTE Convention was a highlight of my teaching career. Earlier in the fall, I presented a Common Core-focused workshop to all of the language arts teachers in my district. I did this once more after returning from the conference. Additionally, I was given the opportunity to present my ideas to a classroom of Master's level students at Weber State University.
How do you think your NEA Foundation funded grant project will help your students?
All of the information I gleaned from this experience has been put to work in my own classroom and in classrooms throughout the district. This fall, I will present at the Utah Council of Teachers of English annual conference, where I will share my ideas with even more educators from all over the state.
Photo by Flickr user bandita
Why did you start teaching?
As a teenager I made some choices that led to me dropping out of high school. For years, I worked 50-60 hours per week at minimum wage jobs, just trying to feed my son and keep the lights on, moving quickly to get nowhere. Eventually, I grew tired of washing clothes in a bathtub and dreading my walk to the mailbox, knowing the "shut off" notice would arrive any day. Life was hard—too hard. Education seemed like the way out and up in life, and it has been.
As I look back over my life, the people who taught me some of the greatest lessons were my teachers, especially Coach Coleman. Coach Coleman urged me to never accept "good enough." Challenges were to be seen as blessings in disguise— mountains that could be moved. Teaching allows me to do just that. I move mountains every day, and I push students the way Coach Coleman pushed me.
Two Rivers High School is a second-chance school— a turnaround school. I teach students who have made some of the same choices I did as a teen, and I work to help put them on track for graduation and for happiness in life.
What is your passion – in or outside the classroom?
I love teaching about teaching, reading, and writing. During my last year at Weber State University, I took a "Teaching Young Adult Literature" course. My favorite things to read are young adult literature, including historical fiction and nonfiction. For the past six years, I have won trips from the National Endowment for the Humanities, the Gilder Lehrman Institute of American History, the Holocaust Remembrance Project, and the National Park Service. Two years ago, Elizabeth Eckford, one of the members of the historic Little Rock Nine, walked out of the pages of history and into my classroom. Last year, Simeon Wright, Emmett Till's cousin and a witness to his kidnapping, visited my school. In February, two Chautauqua scholars from Florida visited my classroom to perform as Langston Hughes and Zora Neale Hurston.
I'm passionate about second chances and hope. I'm passionate about reading and the wealth of knowledge that I gain with each turn of the page, and I want the same for my students. My motto is "Ask until the answer is yes." I thank the NEA Foundation for believing in me and for being a part of my life story.
Cassie Cox, teaches English at Two Rivers High School in Ogden, Utah.
Fostering Parent Involvement
NEA Foundation Grantee Karen Ciotta on how relationships with students and families shine positive light on classroom environment.
Tell us about your plans for your NEA Foundation grant project.
"STEM Scientists" is a program that has created a hands-on science, technology, engineering, and mathematics (STEM) classroom environment for kindergarten and ESL classes. Students have daily, ongoing opportunities to interact with animals, insects, plants, magnets, water, and construction toys that will build math, science, and engineering skills in a fun and engaging way.
How do you think your NEA Foundation grant project will help your students?
The project will allow us to design a classroom environment with a STEM focus that will encourage and enhance communication and problem solving for the earliest learners. My students will create their own learning with pretend-play scenarios that encourage risk-free thinking. Specifically, the sensory table with sand and water allows kids to experiment with water and objects that may sink or float. The use of these hands-on centers will be open for exploration and followed up with mini-lessons encouraging students to build upon required vocabulary.
Kindergarten has many "firsts" and I truly believe that having the opportunity to create a classroom with a heavy focus in STEM will encourage, benefit, and extend my students' thinking.
Photo by Flickr user U.S. Army Corps of Engineers
Why did you start teaching?
I love kids and seeing things through their eyes is humorous. I think I learn as much or more from them as they do from me.
What is your passion - in or outside of the classroom?
My passion in teaching is building a community of learners who look forward to coming to school because they are genuinely cared for and valued.
Describe an "a-ha" moment, when you or your students (or both) have experienced a transformation in your thinking or learning.
After several years in the classroom, I had my "a-ha" moment when I finally realized the huge positive impact that developing real relationships with students and their families has on the classroom environment and student success. It took me a while, but I think I've got it!
Karen Ciotta teaches science at Epes Elementary School in Newport News, VA.
Gardening for ELLs
NEA Foundation Grantee Arlene Costello on gardening with English Language Learners
Tell us about your plans for your NEA Foundation grant project.
As part of our "Language Acquisition through the Arts, Science, and Technology" grant project, my partner, Doreen Wells, and I hosted two gardening experts, who talked with our English Language Learners (ELLs) about what is needed for plants to grow. After the visit, our ELL students staged their own "Tips for Gardening" puppet show.
How do you think your NEA Foundation grant project will help your students?
Students experience authentic learning activities, like gardening and service learning, which help them learn science concepts while growing and observing plants and creating learning cards as study aids. The project has also improved their self-confidence and English language proficiency.
What is your passion—in or outside the classroom?
My passion is helping and working with teachers to find resources, including funding (which is the most critical issue), to assist them in activities that will enrich ELL students' learning and lead to improved student achievement.
Describe an "a-ha" moment, when you or your students (or both) have experienced a transformation in your thinking or learning.
Witnessing the excitement of the students, teachers, and our media specialist as they watched ELL students participate in the school's closed circuit TV announcements, stage puppet shows, design learning cards, and finally, present at a conference to share the activities of the project with educators from around the state was a huge thrill. I couldn't be prouder of what the students have accomplished through this work.
Arlene Costello teaches at Ensley Elementary School in Pensacola, Florida.
Getting Students in AP Courses
NEA Foundation Grantee Susan Anglada Bartley challenges students to enroll in AP courses— and succeeds.
Tell us about your plans for your NEA Foundation grant project.
We have used our NEA Foundation grant to support our nationally recognized Advanced Scholar Program (ASP). The ASP students take four or more Advanced Placement (AP) courses throughout high school. They are given a mentor, who is currently a teacher at the school. Our ASP student leadership class has helped to shift the culture of the school toward a culture of smartness, and an ASP student mentorship program enables students to mentor younger students who struggle. We have used grant money to pay for supplies for mentor meetings and for iPads to help struggling kids check their grades, study, do homework, and look up information with the help of older peers.
(Read more about Bartley's project in the Willamette Week.)
How do you think your NEA Foundation grant project will help your students?
We have had major success! We dramatically increased the number of students of color and students living in poverty in AP courses. We have also created stronger relationships among previously disparate groups in the school and between teachers and students.
Photo by NashCOphoto.com
Why did you start teaching?
I heard the calling to teach when I realized what a powerful influence my own teachers had on my life. I faced struggles in high school, both personal and academic, but my English teacher helped me see that I was exceptional in that one particular area. My teachers stood by me, helping me to cross the bridge to college. For me, becoming a teacher was a natural progression. I love it!
What is your passion— in or outside the classroom?
Teaching is clearly my passion. In particular, I love teaching untracked AP English and helping kids to write college essays. I love being part of the movement to show that all kids can achieve at high levels and make it to college if they have the right support and are properly challenged.
Outside of the classroom, I am passionate about activism. I am working with other teachers and community members to fund a scholarship that we created for undocumented students. I believe that we still have a great deal of work to do to reach a place of equity in public education. Being part of the movement to get to that place is my passion in life.
Describe an "a-ha" moment, when you or your students (or both) have experienced a transformation in your thinking or learning.
An "a-ha" moment for me and for my ASP students was when one of the undocumented students wrote in her scholarship application essay that when she arrived in the United States, a car hit her, breaking both of her knees. The car left her on the street, not stopping to help her at all. Her family had trouble communicating with doctors, and she struggled immensely. When we read this (in a blind admission process where her identity was protected), I think several of us shed a tear. Her story of struggle and finally reaching the goal of walking and having faith in her ability to reach college despite discrimination was enlightening and inspiring for the whole class. The student gave me permission to share this story so that others may understand a little bit more about the reality of being an undocumented student.
Susan Anglada Bartley teaches language arts at Franklin High School in Portland, OR.
Hooking Students on Sci-Fi
NEA Foundation Grantee Mary Ann Giasson hooks students with sci-fi and author lunches.
Tell us about your plans for your NEA Foundation grant project.
The grant has been used to fund our "March Community Read." This event allowed us to put Rick Yancey's novel, "The 5th Wave" into the hands of our students and encourage them to read for pleasure. We had four local authors volunteer their time to have lunch with our students. We are hoping to use the remaining grant money to add a few more titles to our stacks, including the sequel to this year's chosen novel.
How do you think your NEA Foundation grant project will help your students?
The NEA Foundation grant helped us put books into the hands of students who had never owned their own book. I also saw students who are not usually readers, walking around with a copy of "The 5th Wave." This project brings together not only our school but our community as well through various activities and events. This year, we were able to partner with the city's library for a few activities.
Why did you start teaching?
I wanted to be a teacher since the first grade. I think the biggest reason I wanted to be a teacher is because of all the positive role models I had as a student. I also wanted to share my love of literature and writing.
Photo courtesy of flickr user Enokson
What is your passion— in or outside the classroom?
I have three passions that serve me well inside and outside the classroom. I love to read. I am usually juggling at least two books at a time and run a book group at school and in my community. I love to write. I co-facilitate a writing club at school and belong to a writing group in my community. I also have a passion for community theater. I have done everything from running lights to directing, and have recently joined the Waldo Theatre's board of directors.
Describe an "a-ha" moment, when you or your students (or both) have experienced a transformation in your thinking or learning.
I think the most important "a-ha" moment that some of our students had during this project is when they realized that reading can be fun and doesn't have to be about analyzing everything in the novel. The satisfying part comes when they come into the library asking for the next book in the series and you know you've hooked them. Hopefully, for life.
Mary Ann Giasson is a tenth through twelfth grade para-educator at Oceanside High School in Rockland, ME.