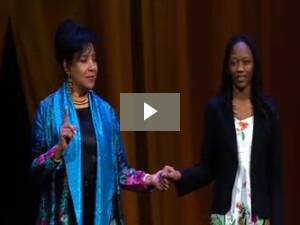 Did you miss the live webcast on the Salute to Excellence in Education Gala on February 7, 2014?
Now, you can watch the entire program and catch all of the best moments-- from host and Tony Award-winning actress Phylicia Rashad to student performers from Montgomery County (MD) Public Schools and the 36 educators from across the country who were celebrated on stage.
The 2014 NEA Foundation Salute to Excellence in Education Gala, featuring host Phylicia Rashad
More than 800 national leaders in education, philanthropy, and business gathered at the National Building Museum in the nation's capital on February 7, 2014 to celebrate excellence in public education.

Phylicia Rashad, the Tony Award-winning actress best known as Claire Huxtable on "The Cosby Show," hosted the event and helped celebrate the work of exceptional public school educators alongside student performers from Montgomery County (MD) Public Schools.

In addition to the 36 educators honored with the California Casualty Awards for Teaching Excellence, the following top honors were presented.


California educator Kimberley Gilles receives the NEA Member Benefits Award for Teaching Excellence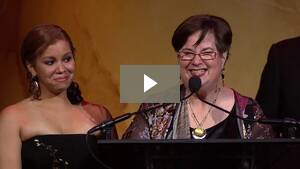 Kimberley Gilles, an English teacher at Monte Vista School in Danville, CA and member of the California Teachers Association, received the evening's top honor: The NEA Member Benefits Award for Teaching Excellence and $25,000. This award recognizes, rewards, and promotes excellence in teaching and advocacy for the profession.
Gilles and four other educators also received the Horace Mann Awards for Teaching Excellence. These five educators were finalists for the evening's top award.
(Left to right: Harriet Sanford, President & CEO of The NEA Foundation; Gary Phoebus, President & CEO of NEA Member Benefits; Kimberley Gilles, NEA Member Benefits Award for Teaching Excellence recipient; Mark Chichester, Chair of The NEA Foundation Board of Directors)
"He was my son who happened to be gay," his father states. His mother is grateful that "he was surrounded by friends—the sun, the wind, and the smell of sage brush" as he died, badly beaten and tied to a fence. In between these statements and others made by local residents interviewed by the playwrights, a Tibetan singing bowl mournfully chimes.

With this choral reading of The Laramie Project, students in Kimberley Gilles' class learn what happened to Matthew Shepard on the day he was murdered. Afterwards, she invites them to share their thoughts and the comments are honest and profound. One student simply asks, "Why?" Gilles shares her passion for social justice and inclusion with her students with this lesson that intentionally provokes and, she hopes, invokes in them a love of reading and writing. She tells them that the purpose of writing is to communicate their inner truths and encourages each student to find his or her unique voice.

Gilles has taught high school since 2003 and was previously a humanities and leadership teacher at the middle school level. In June of 2014, Rethinking Schools will publish her work, "Bringing LGBT Issues Out of the Curricular Closet: Teaching The Laramie Project." She was awarded a B.A. cum laude from the University of California at Los Angeles and a M.Ed. in Instruction and Curriculum, Specialization: Integration of the Arts in 2012 from Lesley University.

As an active member of the Hayward Education Association, she played an integral part in leading a strike and then afterwards helped mend the fences and bind the wounds that had been created. Gilles currently serves as a union representative at her school in the San Ramon Valley Education Association and is a regular advocate for educators at school board meetings and community events. She is a State Representative to the California Teachers Association and currently serves on the Civil Rights in Education Committee. She received the CTA Members Human Rights Award in 2012.
Five educators receive the Horace Mann Awards for Teaching Excellence
Five extraordinary educators from across the country received the Horace Mann Awards for Teaching Excellence. Their students have already benefitted from the award. Each class received digital arts training from Pearson Foundation to produce a video, which premiered at the gala, to honor their award-winning teachers. Watch the videos below.
(Left to right: Harriet Sanford, President & CEO of the NEA Foundation, Christopher Stone (CT), Kathleen Sims (MN), Kimberley Gilles (CA), Marita Zuraitis, President & CEO of Horace Mann Educators Corporation, Eileen Sheehy (MT), Brian Sites (WA), Dennis Van Roekel, NEA President)
Student-made videos honoring their teachers premiere at the 2014 Gala
Timothy Shriver accepts the Security Benefit Award for Outstanding Service to Public Education on behalf of Special Olympics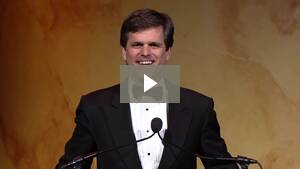 The NEA Foundation presented the 2014 award to Special Olympics. Dr. Timothy Shriver, chairman of the orgazination, accepted the award on its behalf. Watch Dr. Shriver's speech.
This award recognizes individuals and organizations for their lifelong commitment to advancing public education and is typically presented to those who work outside the field. Awardees have included former President Bill Clinton, Title IX advocate Billie Jean King, and Sesame Workshop.
Special Olympics provides year-round sports training and athletic competition in a variety of Olympic-type sports for children and adults with intellectual disabilities.
This gives them continuing opportunities to develop physical fitness, demonstrate courage, experience joy and participate in a sharing of gifts, skills and friendship with their families, other Special Olympics athletes and the community.
Students of Montgomery County (MD) Public Schools take the stage for cultural performances
The gala began with an original piece titled, "This is what my teachers said," by Blessed Sheriff, an eleventh-grade student at Richard Montgomery High School in Rockville, MD, and an award-winning poet. Watch her performance above.
In the evening's finale, host Phylicia Rashad joined Sheriff on stage. Watch Sheriff perform her original poem titled, "On the definition of hope," with the help of Rashad above.
Nearly 80 students from Montgomery County (MD) Public Schools took us on a virtual world tour through the performing arts— from salsa dancing and madrigal singing to African drumming.
Thank you to all who helped celebrate the best in public education. Save the date for next year's gala on February 13, 2015.
Original poems written and performed by Blessed Sheriff:
Be bold. This classroom will be a womb
And it will deliver courage
And it will deliver voices
And it will deliver your courage
And it will deliver your voices

Strive. These books are a pedestal
They will lift you beyond your potential
And you will know things worth knowing
And see things worth seeing
They will teach you how to spell words like believe,

(Remember the "i" comes before the "e" except after "c")
So that you will one day believe in a higher cause beyond yourself.

Listen, to me. This classroom will be the silence you need,
A worthy citadel for your thoughts
So let them roam free
And when you find one worth catching
Bring it back to me.
I want to see.

DO NOT BE AFRAID.

This is something they cannot steal.
The mind, like a thunderstorm
Stands dignified as the only God-sent instrument amidst humanity
And we
Each of us
With our own minds…
Our own eternal infinity.
Ideas don't die, people do.

Understand that courage, kindness, wisdom, and love transcend time and when we go
What we made of them will still be here.
Make something of them
And this is how:

(This is what my teachers said to me:)
DO NOT BE AFRAID
One day you will rise and I may be a distant memory
But for now
Take your seat.
Breathe.
Breathe.
Class is in session.
Hope.
One syllable.
Four letters:
H.
O.
P.
E.
Noun. A feeling of expectation and desire. Derived from Old English hopa or hopian meaning to wish, expect, to look forward to. A word of German origin, connected as well to the Dutch language.
Hope.
A word with so many sounds, so many souls, it doesn't get by on just one syllable.
It's the words of a man, a King, with a dream. It's attached to the faces of the one's who are screaming
For freedom.
Four letters? More like six – and it's spelled like
this:
V.
I.
S.
I.
O.
N.

And do you see now what I mean?
Where there is no vision the people perish-
we are a species defined by our progress-
from the moment we climbed up off our knees and onto our feet…
and we've been doing it ever since.
Off our knees and onto our feet.

Hope. A noun in action,
And whether we are shuffling, mumbling, or running at breakneck speed it makes
sure that we are moving.

Hope. Derived from the one who makes all things new -
a spirit that lives on the inside,
like a wish waiting to come true. It's true,
we are made of stardust. So the next
time you see a shooting star turn around and look inside you:
You're on fire.
Know that the only things that burn are the things that last forever.
Know that fire ignites, and we're called to leave this world in ashes more
beautiful than the icebergs before.

Hope. A word which has its origins in the smile of a newborn child, and in the spark of
a newborn mind which has the power to change a generation.

And if there's one thing important enough to remember about what hope is,
It's that H.O.P.E stands for one thing W.E: and that is WE.
We are hope.