Featured Grantees
Every year, the NEA Foundation awards more than 150 grants to support public school educators' innovative ideas. On average, each grant impacts the learning of 200 students. Below you will find examples of just a handful of the many exemplary projects brought to fruition by our grantees. We hope that the creativity displayed by these educators will inspire not only those considering applying for a grant, but also educators looking for unique learning lessons to replicate.
Amanda Zullo
Saranac Lake High School, Saranac Lake, NY Student Achievement Grant
2012, Winter
Clicking Into Engaging Science Lessons
When Amanda Zullo began teaching a multi-grade high school chemistry class, she knew she needed to change the way her class worked to meet the needs of a wider range of students. With no prerequisites, the Regents chemistry course placed in the same classroom "the valedictorian and the kids who are hoping to meet the graduation requirements," she says. "It challenged me to try different ways of teaching to reach the broadest group of students possible."
Zullo shifted to an inquiry-based model of classroom instruction, one in which students work together in groups to solve open-ended problems. To ensure students were on task, she walked from group to group to check for understanding. But she knew that spot checks "based on gut" weren't enough to ensure that all students were learning.
In searching for a solution, Zullo discovered a counterintuitive corollary about technology and teaching: finding a tool to quickly gauge student understanding paved the way for more open-ended, deeper learning.
Through the NEA Foundation Student Achievement Grant, Zullo obtained a classroom set of "clickers," a system of handheld devices that students use to respond to questions posed during class. The system compiles the results and pinpoints which students are struggling to understand key concepts, allowing Zullo to focus on helping exactly who needs it.
"You could tell if the kids were on target as they were doing these projects," she says. "It immediately took the fear factor out of spending a day teaching kids something they may or may not learn from. With this, I can just find out on the spot and adjust on the fly to make sure everyone's on target with the learning goals at hand."
Zullo worked with other science and math teachers to learn how to use the system, which has also helped spark classroom discussion. "A teacher could borrow the laptop from the library, pick up the clickers and bring them to their classroom and use them," Zullo says. "It became very seamless." Collaboration on the technology also opened the door for collaboration in the classroom, as Zullo began co-teaching lessons with an Algebra teacher. "As we found this was effective, we were encouraged to try more and broader things," she says.
The technology has also helped focus tutoring in the school's after school library program, which is overseen by educational support staff. "You can export reports from the system and see what kids got right and wrong," Zullo says. "That way, the students come into the library after school and get help with what they need. It's helped realign that support with the classroom expectations."
All told, 300 students and 15 teachers have used the clickers since they were introduced in March 2012. Zullo saw the number of critical thinking statements included in student lab reports increase by 45 percent; this is a significant increase and is what new standards such as the Common Core State Standards aspire to achieve.
The clicker has facilitated formative assessment of student understanding, higher-order and cross-disciplinary instruction, and more aligned afterschool supports—all of these are known by research to contribute to higher-student achievement. Zullo adds, however, that an equally important shift occurred—she became a more "reflective" teacher. That is, with the reports generated by the clickers, she had access to a new source of data and information that she could use to reflect on and tweak her practice. In her own words, "In the end, the reflection on what's happening in your classroom is really valuable."
Christopher Eldridge
Scarborough High School, Scarborough, ME Student Achievement Grant
2011, Winter
Cultural Awareness through Cooking: Understanding Ethnocentricity

It's 11 a.m. on a Tuesday and Sonia Diaz is standing over a hot oven at Tu Casa restaurant. An array of tortillas, cheeses, and meats lay before her, ready to become the ingredients in a stack of delicious papusas. As she delicately and intently prepares the feast, Ms. Linda, the restaurant's owner, explains to a group the finer points of Salvadoran familial relationships. Later, as Sonia and her classmates gather around a table and nosh on the fruits of their labor, they'll discuss the cultural similarities and differences between the United States and El Salvador.

It's just another day in Christopher Eldridge's Introduction to Sociology class.

A social studies teacher at Scarborough High School in Scarborough, Maine, Eldridge used a $5,000 Student Achievement Grant from the NEA Foundation to introduce "Cultural Awareness through Cooking," a program that framed studies of different nations through visits to restaurants. Occurring throughout the spring of 2012, the project encouraged Eldridge's 50 juniors and seniors to reduce personal ethnocentrism and foster cultural awareness and respect for diversity.

Breaking his class into 10 five-student groups, he arranged for each group to have two separate visits at 10 ethnic restaurants in Portland, ME. Groups visited restaurants serving Eritrean, Indian, Japanese, Korean, Salvadoran, Somali, and Thai cuisine. During their initial visits, students conversed with the restaurants' owners and staff to discuss the cultural nuances between their native lands and the United States. Issues broached were both general and personal and included education, art, technology, commerce, religion, gender roles, civil rights practices, family dynamics, value contradictions, sports, and fashion. On their return visits, students were provided opportunities to make traditional meals in the style of their chosen countries.

"This project helped me personally understand sociology with a more hands-on experience," noted junior Joseph LeBlond Jr. "It took all the things we learned and let us apply them in real life."Eldridge elaborated, "At first people often react negatively to something different. That is the natural human reaction. The idea is through this experience we can work to understand a culture besides ours on its own terms and not judge it as better or worse than the way we do things."

Before and after the project, students completed a five point inventory that included a "personal beliefs about diversity" scale, a cultural awareness inventory, a universality-diversity scale, an "openness to diversity and challenge" scale, and a self-awareness inventory. Pre- and post-project inventory comparisons reflected a greater openness to diversity and enhanced cultural awareness as a result of the project, which Eldridge saw as a natural growth. "I aimed to encourage self-reflection," he added.

After their restaurant visits, each group of students was charged with creating a 20-30 minute documentary detailing their experiences and addressing the concept of ethnocentrism. The videos were screened for 32 classes at Scarborough High School, reaching nearly 600 students.

Beyond providing students a greater understanding of world cultures, the project also exposed them to the increasing diversity of the city of Portland and the changing cultural landscape in the state of Maine. By documenting and sharing these experiences, students were able to both engage in cross cultural experiences first-hand and share those experiences with a vast majority of their peers. Eldridge was encouraged by his administrators to share his students' work with Scarborough High School's entire social studies and language arts departments and will look to continue cross-curricular sharing in future years.

The project resulted in a shared positive experience that resonated with students and educators alike. The "Cultural Awareness through Cooking" project served as the curricular focus for the spring 2012 semester and will continue to remain an important part of Eldridge's course, funding permitted. He plans to continue drawing on components of this project for future courses in units regarding ethnocentrism, culture, immigration, and research methods.

"Students' primary multicultural experiences were the most successful aspect of the project," he said. "In class discussions and written reflections they expressed insight into a number of specific experiences cooking and talking with immigrant restaurant workers. Their presentations to other classes were quite productive, and teachers of those classes gave me very positive feedback."
Junior Jake LeClair was a bit more concise.

"This was one of the most fascinating and memorable experiences I have had in my high school classes."

Now that's truly food for thought.
David Lazerson
The Quest Center, Hollywood, FL Student Achievement Grant
2011, Fall



Music for special needs

To improve the communication skills of students with profound special needs, including those with autism, Down syndrome, and cerebral palsy, Dr. David Lazerson and his co-applicant, Cindy Frost, implemented a music program in special education classes.

The team used software to assist students in understanding the nuances of simple instruments, and eventually, learning and playing songs. Students interacted with members of their community through song and dance performances at senior centers, other schools, and a local children's hospital.
Dr. Leslie Chekin
Annandale High School, Annandale, VA Student Achievement Grant
2012, Winter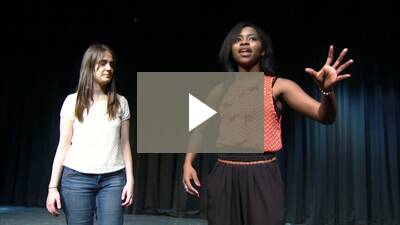 Note: Leslie Chekin also received a Student Achievement Grant in Winter 2014 to continue the "Theatre Without Borders" program. Watch the video above to see how the program has changed the lives of students.



"Theatre Without Borders" brings non-native English speakers to the stage

Annandale High has one of the most diverse student populations of any Fairfax County, VA school. With students from Central and South America, West and East Africa, the Middle East, and Asia, many students must juggle academics with learning a new language and settling into a new home, a new school, and an unfamiliar culture.

To offer her students a creative outlet for learning, ESOL teacher Leslie Chekin created "Theatre Without Borders." Its purpose? To allow students to study classical theater, literature, and most importantly, English. Since participating in the program, almost all of our 40 students have significantly improved test scores on the state's English language proficiency (ELP).

The program started small nine years ago, with no budget for a stage and most sets and costumes paid for out of pocket. "We had applied for a county grant, but there was no money," Chekin said. Then last fall, Chekin and her partner, Michelle Picard, received a $5,000 Student Achievement Grant from the NEA Foundation. With it, Chekin and her colleagues in the performing arts department transformed the existing old program into what she describes as a "total theater concept," exposing students to all aspects of theater, from design and stage management to lights and sound.

Like almost everything in education, change came gradually. Her students' first challenge was to conquer stage fright. Every student must audition, even for a non-speaking role. They learn about acting, directing, public speaking, and organizing publicity campaigns, as well as each play's themes, characters, and plot.

"During my first year in the program, everything about theater was challenging," said student Fabiola Alba. "I couldn't even pronounce my lines." But she persevered, and has now performed in and even directed a handful of Shakespeare's plays. "It wasn't easy," she said, but by the year's end, her language skills had dramatically improved.

"After you perform his plays, Shakespeare is always going to be something important in your life," said Carlos Portillo, another student. "I'm still part of the program and am not ready to leave it yet," said Andrea Albarracin, who discovered that working together is the key to a successful performance. Their foray into the literary titan's works was not blind. Students attended performances at the Shakespeare Theatre Company and Gala Hispanic Theatre in Washington, D.C. They even performed their own mini-production of "All's Well That Ends Well" for visiting representatives of the Shakespeare Theatre Company.

With each production came its own internal drama, according to Chekin. Many of her students struggle with the displacement of moving, learning a new language, and difficult home lives. But in overcoming challenges together, they gain important life skills. "They see themselves as a company," she said. "That feeling of pride and identity? They pass that on to each other."

The program may be the only exposure to theater and the performing arts these students have ever received. It also serves a larger purpose. "The real hurdles to graduation, in particular for students coming from other countries, are math and English," Chekin said. In February, the class completed the state's ELP test. "All of the kids, except for two or three, moved up an entire level, if not higher," she said. One student later became a certified lights technician. Another became a student ambassador to the Shakespeare Theatre Company, and returned after graduating to lead an interactive workshop on "Much Ado About Nothing."

"There used to be a barrier between performing arts and ESL students," Chekin said. Now, the theater crew has earned a small following in the community. "They have a reputation for being hysterically funny and unpredictable," Chekin said. Last year's performances of "The Taming of the Shrew" and "Macbeth" drew audiences of 200-300 people. In 2012, the show goes on, as a new company of students aim to create their own interpretation of the classics.
George Barlow
East Valley High School, Spokane, WA Student Achievement Grant
2011, Fall



Biofouling: It's a sticky situation

George Barlow's high school science students at East Valley High School in Spokane, WA, immersed themselves in the scientific method during a yearlong project in which they created and tested environmentally friendly materials to remove barnacles from ship hulls, which ends up costing the U.S. Navy millions of dollars each year in fuel costs. Students began initial background testing to create antifouling substances, then designed an experiment to test them in aquariums with barnacles and mussels.

Barlow and his co-applicant, Tim Severns, received a $5,000 Student Achievement grant from the NEA Foundation to complete this project.
Gregory Neat
Crescenta Valley High School, LaCrescenta, CA Student Achievement Grant
2009, Winter



Preparing for a "green" future: Students build and design hybrid go-kart

For engineering teacher Greg Neat, the Cresenta Valley High School's Tech Shop is a place where students apply the concepts they are learning in the classroom to solve real-world problems. By bringing their studies to life, he is helping them better understand algebra and physics and teaching them vocational skills for future careers.
With "green jobs" likely to be a driving force in the future American economy, Neat applied for and received a $5000 NEA Foundation Student Achievement Grant focused to give his students the knowledge and competencies to prepare them for the rapidly changing job market. His goal: give his students the understanding and technical skills to design and build a hybrid go-kart.

While the tangible goal was the vehicle, the learning objectives were three-fold: students must learn to apply traditional classroom knowledge to solve real-world problems; learn a base set of vocations; and learn to work successfully as a team.

Because the knowledge and skills varied among his more than 60 students, Neat developed the project to ensure that all of his students met his goals across grade level and experience. Several of his younger students would need to learn vocations before they could contribute to the construction of the go-kart and his students had unequal conceptual math and science knowledge.

To address these gaps in skills and learning, he divided the project into two phases. First, teams of two to three students designed and tested mini-hybrids that would serve as prototypes for the final product. Once students mastered the model-building skills, they could then graduate to work on the final project to build the larger hybrid vehicle.

This first activity served as a training ground for the students. These students applied lessons from math and science classes and learned a number of vocational skills including, computer aided design (CAD), electronics, programming, welding, and assembly and testing.

In order to evaluate the prototypes, Neat held competitions between student teams to test the models. Students explored a number of ways to power the models, using rubber bands, battery powered motors, and compressed air. Some designs would easily translate to a real hybrid vehicle, while others were not as practical. This was not a concern for Neat; this activity demonstrated students applying their lessons and thinking outside of the box.

"The competitions between groups were extremely engaging for the student and the amount of real-world learning during this stage of the activity was immeasurable," said Neat.

When the testing phase was complete, the students proved that they were ready to tackle design of the hybrid go-kart. Originally, Neat had considered purchasing an old go-kart or golf cart and retrofitting it to function as a hybrid vehicle using the new principals and concepts the students had learned and applied. But with their new found confidence and skills, the students convinced Neat that they could build it from scratch.

When applying their learning on a real-world scale, the students encountered complex issues relating to function and design of the vehicle. In order to reinforce the importance of teamwork, Neat involved experts from the community to help the students find creative solutions to the problems. When the students were stumped on the fabrication of the go-kart, they visited a local company, Mechanical Concepts, and discussed possible solutions with the owner, Bruce Wilton. He invited students to use his shop to create the necessary pieces for the go-kart.

Once the nuts were tightened and the battery charged, the students showed off their design by testing the go-kart in their high school quad.

"I had a vision about how to teach students to apply knowledge and this grant allowed that vision to be realized," he said. "The tangible product is a hybrid go-kart. The intangible products are the numerous students who will likely elect an engineering profession after learning the power of applying knowledge that they already have to solve a real-world problem."
Jennifer Ainoa
Molokai Middle School, Hoolehua, HI Student Achievement Grant
2009, Summer


Students gain resources to compete in science fair
Molokai is known as the "most" Hawaiian island because of its unspoiled natural beauty, authentic culture, and resistance to embrace the commercial tourism industry. In fact, there is so little automobile traffic that there is not a single traffic light on the island. The absence of mainland tourists and luxury resorts is a benefit of living on Molokai, but as a result, the island also lacks sufficient employment opportunities for adults and education resources for its students.

This is a reality that Jennifer Ainoa's seventh-grade students at Molokai Middle School face every day when learning the basics of scientific inquiry. In order to give her students access to the resources necessary to make them successful, Ainoa took the initiative and developed a common sense proposal for a NEA Foundation Student Achievement Grant.

"Bridging basic literacy gaps, ensuring fair and equitable access to technology, and providing strong adult support for every student, in the face of many parents themselves not being highly literate or familiar with scientific inquiry, has been problematic for the school," she said.

Each year, all students are required to participate in a science fair project and the best projects, as determined by judges at the school-level, travel to Maui for the county-level competition. The NEA Foundation funding provided Ainoa's students the technology, the experience, and the money in order to prepare, attend, and compete with their peers from the larger Hawaiian communities at the science fair. "The premise behind this grant was to tap into resources on the island and purchase computers and printers in order for the students to have a chance to do high quality science at a level comparable to students elsewhere," she said.

As soon as the grant was funded, Ainoa and her students purchased three Dell desktop computers, a printer, and other materials to access the internet. The students benefited immediately and used the new computers to conduct research and complete classroom work. Ainoa also used the grant for experiential field trips to spark curiosity and open students' eyes to possible topics for their projects.

The students visited Wichamn Farm, a local coffee plantation, to learn about how coffee was planted, harvested, and used in industry. They also visited Pala'au National Forest where they learned about the local ecosystem and collected seeds from the native Hawaiian Koa tree to help prevent the plant from extinction.

These hands-on learning activities broadened the students' knowledge and provided inspiration for their projects. One student, after learning about the unique qualities of the coffee plants grown on Molokai, chose a science project measuring the pH of local soil.The first measurable goal of the project was for 95 percent of the seventh graders to successfully conduct an independent science fair experiment. Using the new resources, 77 of the 79 students successfully completed their projects.

Even though the proposal primarily benefited the seventh-graders, it was the experience of an eight-grade female student that demonstrated the unexpected impact this grant had on the school. Once the computers were up and running, this student used the opportunity to work after school on her science project. In an effort to repeat the experiments of the father of genetics, Gergor Mendel, she studied and planted sweet peas.

While it lacks corporate hotel chains, several agricultural corporations have research facilities on Molokai and local geneticists serve as judges for the school-level science fair. This budding scientist caught the eye of the judges. "They fell in love with this young lady and were stunned at the quality of her science," said Ainoa.

Because of the quality of their work, this student and 11 of her peers were selected to attend the competition in Maui. Ainoa used the grant funds to allow all of these students to attend the competition. And the students performed well. Two of the students were given special recognition for their work, accomplishing another of Ainoa's goals for her students. "While this specific student did not earn any awards at the Maui County competition, she blossomed with pride and was thrilled with the opportunity to travel off-island," said Ainoa.

Through what the students were able to accomplish by using these few new resources, Ainoa proved how access and equity can impact student learning, especially for students in underprivileged communities. The new computers will continue to be a lasting resource for the Molokai Middle School, but the experiences, support, and learning Ainoa provided for her students through this project is what will have an enduring impact on the whole community.
Jennifer Dashef
Granville Central School District, Granville, NY Student Achievement Grant
2010, Summer
How I used animation and imagination to teach students about recycling

By Jennifer Dashef

Jennifer was awarded a Student Achievement Grant funded in partnership with Nickelodeon's The Big Help.

It is my goal to make my art lessons as meaningful as possible for my students. Each year, I try to include my students' art work in museums, our public library, and in school art shows. We also culminate each sixth grade year with a final project that is memorable and engaging for my students.

One of our school's annual goals is to recycle. Last school year, I taught my students how to make Claymation movies and I thought it would be a powerful tool to use the recycling theme to create the short movies. I also wanted to find ways for my students to document their work and preserve it. In addition to filming, I wanted to publish a book that captured all of their claymation stories.

Similar to a movie script, they would need to plan their sets, story lines, and create a bookmap before they began their filming and design. I applied for a NEA Foundation-Nickelodeon Student Achievement Grant to help pay for the materials and support we would need to accomplish this project.

Throughout the process, the project took on a life of its own. It became a way for the students to learn about the writing and editing process for creating their sets and story lines, and filming their work. In addition, students from an area high school visited our classroom to explain the importance on recycling and how each student can help. They taught our students ways to help save, re-use material, and recycle. It was valuable for my students to learn about the small steps they could take to help prevent wastefulness.

When reflecting on the learning, I believe Marissa Brown's description of the project is clearly reflected in her summary located on the back cover of our book:

"This book is made up of stories created by sixth grade students. All of the stories related to recycling. My peers and I have worked tremendously hard on this project. It has taught us many things...This process opened our minds to the possible uses of technology in the art room. We used a camera, computer, and the Smartboard in our class in order to complete the claymation movie and photos for our book. We enjoyed learning about the computer programs that are available to us and know we will continue to use them in the future…I think we now have a much deeper understanding about our impact on the Earth. We hope this book inspires many more young readers to recycle in the future."

I am extremely impressed and proud of my students. They successfully published their work and are now able to share their knowledge with others through sharing their book. This project gave them important skills and abilities that can now be applied to different careers such as journalism, illustration, graphic design, and as authors. This was made possible through the generous support of the NEA Foundation and Nickelodeon grant.
Jennifer Nelson
Valley View Elementary, Ashwaubenon, WI Student Achievement Grant
2012, Spring
From Wisconsin to Ecuador: Improving language, technology skills and finding new friends

Student Impact:
Increased student global awareness through real-time contact with peers in a foreign country
Increased student motivation to learn a foreign language through authentic/real-life contact with native speakers
Increased confidence in speaking a foreign language through use of technology

Jennifer Nelson was the first to admit that her fourth-grade Spanish curriculum "was kind of dull," and she knew that even the students who had been learning the language for years often lacked the confidence to use it. Infusing technology into the classroom not only made her students comfortable speaking and writing Spanish, but also led to lasting connections with peers in Ecuador and greater interest among students in sticking with Spanish language study

After setting up online resources about Ecuador for her students to explore and then use in their own multimedia projects, Nelson decided to reach out to a school in the South American country and have her students write their counterparts letters. "Many of them didn't think they could write an entire letter in Spanish," she says—but they did, and when the responses arrived from their pen pals, they worked together to translate the letters. "I was so impressed by their detective skills," Nelson says.

But that was just the beginning. Nelson tapped a site called KidBlog to allow her students to blog back and forth with their Ecuadoran pen pals. "Penpaling is great, but it takes so long to get something back," she says. "I want them to be able to communicate more quickly." The next step was arranging a live Skype video session between the two schools, a conversation which was conducted in English and Spanish as the students from both countries excitedly shared their work and key facts about their schools with each other. Nelson says that students' initial nervousness about conversing in Spanish quickly faded during the video session, which attracted the attention of the local media.

"The biggest excitement was being able to see our pen pals and have them see us," she says. "But the most significant thing was how my students have gained self-confidence in their Spanish speaking—when students reflected on the process, several wrote that they realized they knew a lot more Spanish than they thought and needed to be more confident."

As a result, Nelson has modified her assessments to include writing components and make them more rigorous. Since the district's high school Spanish students have the opportunity to take a trip to Ecuador, the experience has also served as "a great motivator for the students to continue learning Spanish all the way through high school," Nelson says.

The biggest challenge involved with the Bringing Everyone Together With Technology project was finding a school in Ecuador interested in working with her class; Nelson wound up talking to other teachers and language professors at universities across Wisconsin before finally making a connection with a teacher in an Ecuadoran school. "The interesting thing was that she was from the United States and had been a sub in my school district," she says. Nelson has since connected with teachers in Nicaragua and Spain interested in similar partnerships; other teachers in her district are now making connections of their own.

Nelson credits the NEA Foundation's Student Achievement grant with providing her with the impetus to get the project rolling. "I'd wanted to do something like this for a long time, but I'd never even tried Skype," she says. "The grant made me take the first step forward and go for it."
Kathleen Miller
West Vigo High School, Terre Haute, IN Learning & Leadership Grant
2010, Summer



From Indiana cornfields to Alaskan wilderness: Students capture history in digital jukebox

Students from West Vigo High School in rural Terre Haute, Indiana found themselves a long way from home last summer. Nine high-achieving students took a giant leap from their "little world in the cornfields of Indiana" to the Last Frontier of Alaska – some even leaping into the 40-degree Arctic Ocean, according to Kathleen Miller, the school's Family and Consumer Science teacher.

From riding the Alaskan Railroad to experiencing the commercial fishing industry, students immersed themselves in the local culture, alongside Miller and four other educators. They learned how much daily life depends on the management of sea life. "The indigenous people have a far simpler life than we do, with much less access to resources," said Cody Thornton, a senior. Back in the states, Thornton and his peers gave presentations at the district's elementary schools on their native experiences.

That's not all the students brought back with them. Miller and her co-applicant, Cherish Easton, received a $5,000 Learning & Leadership Grant from the NEA Foundation to create student-produced digital works to be archived in a retro jukebox—turned—digital library. The project drew inspiration from a similar one called the "Jukebox Project," storing oral histories from hundreds of native Alaskans at the University of Alaska, where Miller studied the preservation of indigenous knowledge years ago.

"I found so many parallels and commonalities– even though we were miles apart– about how important community is to the whole education process," Miller said.

A team of veteran and new teachers aided the "Human Development" and "Issues and Applications" classes of 33 seniors in producing media to commemorate the school's 50-year anniversary. More than 50 oral histories— from profiles on distinguished alumni to a 1966 football game converted from 16mm film— now live in the "Viking Jukebox," named after West Vigo's mascot. Crafted from an old stage prop and embedded with a computer, the digital time capsule is accessible on campus and the school's website.

During the year-long process, students mastered 21st century media skills, like video editing and digital photography. "Our students are very savvy when it comes to cell phones and texting, but creating something that is publishable is a challenge," Miller said.

Students also wrote scripts and coordinated phone and Skype conferences with alumni and retired teachers. "I had to do a lot of researching and digging deep into yearbooks, magazines, interviewing teachers, and talking with people around the area that know more about the topic," said Erin Barton, a senior. Her classmate Mikaila Kelley took to task "making sure we had all of the information correct and in a well-organized manner."

To find local lore to populate the jukebox, students stepped into their own backyards. They visited the Wabashiki Wetlands, took an airboat ride down the Wabash River, and held class with local community leaders at the historic New Goshen Little Brick Schoolhouse.

Upon her retirement, Miller leaves behind a project that teachers of technology, manufacturing, writing, and more, can continue to adapt. And they won't have to wait long to see the results. One of Miller's struggling students passed the language arts test. Others improved their English skills. Three female students applied for Child Development Associate programs. "I know those girls who went to Alaska have been stronger students this year," Miller said. At the same time, her students leave behind a piece of themselves that the whole community can experience for years to come. "Knowing that others can enjoy the stories and see the memories is a wonderful thing," said Senior Sara Umphries.
Katrina Macht
Hillside Intermediate School, Bridgewater, NJ Student Achievement Grant
2011, Winter
Service Through the Arts: Where Principles Meet Passion

Student Impact:
Students in language arts, music, and art assumed leadership positions to help organize and implement special service events throughout the school year
Students developed collaboration skills through work with community agencies, a teaching artist, and other students.

When budget cuts moved Katrina Macht out of a role coordinating service learning at her New Jersey school and back into the classroom, the 6th grade teacher wanted to make sure that the school's long history of involvement in service projects didn't end. As Macht and a peer began exploring ways to integrate service learning into the language arts curriculum, they quickly zeroed in on the "arts" component of language arts.

"It had to be more than a nice mural across our front door," Macht says. "We needed to walk the walk."

Today, Hillside's Youth Engaged in Service Through the Arts (YES A+) project challenges the school's language arts and science students to identify and then explore over the course of the year "problems of importance to them"—everything from puppy mills to child labor to climate change—as a means of strengthening community outreach as well as student ownership and engagement. "The only criteria is that it's something they care about passionately, because they have to stick through it for several projects and a final," Macht says.

Journaling and a portfolio of work help students reflect on what they learn over the course of the year, but they also needed the opportunity to share their areas of interest with the broader community, according to Macht. "There has to be a place where kids can showcase their work in front of an authentic audience," she says.

The NEA Foundation grant helped pay for an artist-in-residence program at Hillside, a program in which a teaching artist worked with students during the school day to help them develop short performance pieces about their projects. "Students were able to hone their performance skills and work on monologues, and the consistent feedback provided helped them further develop their skills and shape their work," Macht says, calling their interaction with a professional an "essential part of 21st century learning." Along with musical and dramatic performances in community settings, students also took what they learned and wrote letters to the editor, newsletters, and messages to lawmakers urging changes, bringing the impact of their work far beyond the walls of the school. One student created an interactive presentation about the problems caused by puppy mills and presented it at the school's annual community festival. "I have learned a lot about puppy mills and what they are … I thought this was the best way in my school that I could make a difference to help stop the cruelty of puppy mills," Deanna writes. "I believe people can make a difference with this solution!"

Macht says the project has been particularly helpful for at-risk students and those who struggle in school. "It's an opportunity for them to have a voice in what they're learning," she says. "They are struggling as readers and writers while getting drilled-and-killed, and having a choice of what they have to study is really powerful for them." Equally important, tight integration of the project into broader learning objectives helped ensure that service learning remained in place at the school. "It's now been memorialized in our district curriculum," Macht says, and in Hillside's third year of YES A+, all of the school's language arts teachers are now using the service learning framework to have students "research a problem and take it to the step of proposing a solution."

YES A+ has helped maintain the school's long history with Roots & Shoots, a service-learning project founded by Jane Goodall. It's also served as proof that individual teachers can make lasting contributions to a school's culture and curriculum. "Some teachers, particularly ones new to the profession, have a hard time seeing how you can be creative within the boundaries that exist now in education," Macht says. "You can still do it—you just have to think a little more out of the box."
Laurie Scarpelli
Lake Louise Elementary School, Palatine, IL Student Achievement Grant
2011, Fall



Digital storytelling with iPad2s
Laurie Scarpelli's fifth and sixth grade music class at Lake Louise Elementary School in Palatine, IL, combined eBooks applications on iPad2's with nursery rhymes to inspire a love of reading and to build 21st century skills in their counterparts in lower grades at their school. Watch how they created digital stories with pictures, text, and student-performed piano accompaniment and vocals as a teaching tool that they used with younger students.

Scarpelli and her co-applicant Marianne Rakoczy received a $5,000 Student Achievement grant from the NEA Foundation to complete this project.
Leanna Stroup
North Brook Elementary School, Vale, NC Student Achievement Grant
2009, Summer



The sound of learning: Students learn about poetry and musical composition

Elementary music educators at North Brook Elementary integrated writing and musical composition for fourth and fifth grade students using the Garage Band computer program. Students completed poetry, wrote musical rhythms and used the new technology to record their projects.
Lisa Bender
Southern Garrett High School, Oakland, MD Learning & Leadership Grant
2010, Fall



Grant writing: A good ROI

By Lisa Bender

In the business world, ROI (Return On Investment) is a popular metric used to measure the effectiveness of time and money spent on a project. There are ways to apply this metric to the teaching world too! A good example of this is my grant writing effort for a NEA Foundation Learning and Leadership Grant.

After spending a fourth consecutive day off school snowbound last winter, I decided to hide the TV remote (I convinced myself I shouldn't watch another morning talk show or sitcom re-run). Surely, I could find something positive to do that was connected to my profession. So, I decided to look for a grant to enhance my own personal professional development. And, it paid off!

Eight months later, with the help of a Learning & Leadership grant from the NEA Foundation, I found myself in Miami Florida at the annual conference for Economic Education networking and discovering best practices that I can apply to my own classroom and share with colleagues.

The grant writing process can be intimidating, but I found that it can help you look at your teaching practices through a different lens. Each grant has different qualifying factors and I have found it as a good exercise to reflect on how to reach out to students in a new way. A good example is a lesson I now am incorporating into my Personal Finance Class.
At the conference, I learned about lessons created by the Atlanta Federal Reserve Bank called "Katrina's Classroom: Financial Lessons From a Hurricane." Every day, I teach my students to become better consumers, learn how to save and invest, and to be aware of credit card fraud, but I never considered the importance of financial awareness during a disaster.

In addition to the information I was able to glean at the conference, I picked up a four-part DVD-based curriculum that was an ideal supplement for the lessons I teach on banking and budgeting. It has revealed unique perspectives to my students as they listened to high school students their own age describe how their families endured Hurricane Katrina and the financial hardships and lessons they learned from the experience. I doubt that I would have incorporated these supplemental lessons into my regular curriculum if I hadn't attended that conference.

I would recommend grant writing to any teacher who wishes to "seek what is missing" from their teaching. I looked at my own career and classroom and knew that I would be teaching new courses in the area of financial literacy (a subject I am very passionate about) and I wanted to figure out a way I could enhance my teaching abilities in this subject. This grant and the conference served as the perfect opportunity.

Taking the time and energy to write the grant proved to be a very good return on investment (ROI). It's a business strategy that works not just in the boardroom, but in the classroom too!

Lisa's links to helpful financial literacy lessons:
Lorette Vacchiano
Cole Manor Elementary School, Norristown, PA Learning & Leadership Grant
2009, Fall


All the healthy news that's fit to print

If there is any concern about the future of journalism, the 110 students who participated in the Healthy Times program provide 110 reasons to be optimistic. Beyond sharing their discoveries about health and wellness, students at seven Norristown Area District schools stretched to deal with tough social issues such as bullying. Along the way they discovered the joys of research, problem solving, and collaboration.

The students in Norristown, Penn. were not only inspired to become better writers, they assumed the role of professional reporters. While polishing their interview techniques, these cub reporters fought for truth, justice, and the healthy way. "We published 25 newspapers, expanded involvement by both teachers and students and exceeded the activities that were outlined in our grant proposal," said teacher Lorette Vacchiano. "In the process, we have laid the groundwork for sustainability of the program."

The Teachers
Norristown first teamed up with Healthy NewsWorks (then called Healthy Times) during the 2006-2007 school year. In 2009, with support from a grant from the NEA Foundation, the program was expanded to seven elementary and middle schools. Each school developed its own health-focused newspaper with such names as Stewart Healthy Times, Marshall Street Healthy Bulletin, and Eisenhower Healthy Panther.

Vacchiano described the grant submission and review process as providing constant support. "The NEA Foundation referred the right person at the right time. Any questions were answered immediately." The NEA Foundation funding also covered stipends (for teachers and journalists), newspaper notebooks, reference materials, language translation, and printing costs.

Vacchiano quickly recognized the value in activating a vibrant school newspaper as an innovative teaching and learning tool. Despite her initial concerns about the investment of time to create and manage a successful program, she saw the potential to engage a wide range of students by weaving journalism into the curriculum. Teaching colleagues were recruited for the planning of the healthy newspapers. As a result, a valuable and positive growth cycle was seeded through this effort.

In some schools, the newspaper has been integrated into the school curriculum to teach journalism. The momentum created teacher dialogue, which spawned a monthly study group to develop strategies. As word got out, the study group attracted new teachers. Vacchiano and her colleagues, Marian Uhlman, director of Healthy NewsWorks, and Cheryl Levine, a teacher in the Norristown School District, also found innovative ways to engage classroom teachers. One music teacher shared his prodigious salsa skills for the spring concert, inspiring a student reporter to interview him about the benefits of dance as exercise.

The Students
Students were invited to submit newspaper stories focusing on health, safety, nutrition and fitness. "It makes me feel good when I see my story in the newspaper and I love that the whole school gets to see my work," wrote one fourth grade student.

Participating students became more confident writers. "Ever since I was asked to be on the newspaper, I have improved in all my writing skills. Now I'm getting all A's in my writing," wrote one fourth grader. Another wrote that his teachers "knew I could do a lot of extra stuff and you pushed me to go the extra mile."

The Results
One student paper, The Cole Manor Healthy Comet, was translated into Spanish. "We thought it would provide an ideal invitation for students who are learning English as a second language to join their classmates on an assignment," said Vacchiano.

Based on the Pennsylvania System of School Assessment (PSSA), writing skills improved. Students also gained important life skills. "Student reporters learned how to interview school staff and guests with professional ease," she said. "They became more responsible by preparing their questions for interviews in advance and carrying their reporters' notebooks on interviews." Teachers noticed students becoming more poised and mature as they led conversations with peers and adults. They also learned how to collaborate.

The program has attracted the support of nationally known journalists and organizations. A March journalism workshop with former New York Times correspondent and Philadelphia Inquirer editor, Doug Robinson, was a full house. In May, Tony Auth, editorial cartoonist for the Philadelphia Inquirer, was a featured guest at a year-end luncheon attended by nearly 100 student journalists from seven schools. Five student reporters from Stewart Middle School attended the CDC Conference on health and obesity in Washington, D.C., and submitted stories for the Norristown healthy newspapers.

"Across the schools, teachers read student features as a source of information and use the papers as a teaching tool," Vacchiano said. "This is really a big deal for us here. We are so proud."

Read the April 2011 issue of the Cole Manor Healthy Comet.
Lori Napier
Maury County Public Schools, Columbia, TN Student Achievement Grant
2009, Summer

"Facebooking the bard": Social media to better understand literary classics

Meet Portia. She's a "strong, noble born Roman woman, wife to Brutus." Her hobbies include attending chariot races, going to the theater, and watching gladiatorial matches. She was born on October 14, 69 BC. And she's on Facebook.

Welcome to the world of "Facebooking the bard." Dreamed up by facilitating teacher Lori Napier and tenth grade English teacher, Pamela Pruett, of High School in Columbia, TN, the project came to life in the Spring of 2010 with the help of a $5,000 Student Achievement Grant from the NEA Foundation.

To encourage students to use critical thinking skills to better understand how Shakespeare developed his characters, Pruett asked each of her sophomore honors students to choose a character from "Julius Caesar" and to create a social network page to flesh out the character's personality. To add to this experience, students were also instructed to place their characters in a contemporary setting.

"By having the students put the characters in a more modern situation, the students had to go beyond just basic knowledge about the characters," Napier explained. "The students had to apply more rigorous analysis to decide what the characters might do or say to an audience of 'peers' on the social networking site."

In addition to encouraging students to think more critically about their characters, the creation of social media pages required students to make creative use of technology for publishing their writing. While creating their pages, students demonstrated knowledge of how graphic design elements can be used to illustrate distinctive character traits. Napier said, "One of the students incorporated the color purple in his profile of Julius Caesar an account of purple being a royal color; another student chose an Impressionistic painting as her background for the Soothsayer's profile since the painting had a mysterious appearance, not unlike the character."

The project has strengthened the overall curriculum by integrating elements across subject areas. And it is a hit with students. Through end-of-year evaluation forms, students responded that they liked the project because it allowed them to bring real-world aspects to a 400 year old play by using technology in a new way. By immersing themselves in the play, students were challenged to think of their characters in a modern light and more deeply examine the reasoning behind their actions. This research called for students to truly understand the play through multiple readings, which, according to Napier, "was a delight to the teachers!"

The success of the program has caught the attention of other educators in the school and community. Several teachers at High School are considering using this idea in their classrooms. One even used some of her planning time to observe student presentations of their social network pages. The Maury County Public Library Shakespeare Club plans to use the student-made profiles with its members, and the posters will be on display in the library.

Impressively, students covered state curriculum standards in language, writing, research, logic, communication, media, and literature. Linking social networking with language arts lessons has proved to be a resounding success for both the students and educators involved. "The project provided a vehicle for students to exhibit their depth of knowledge on the chosen character and the play as a whole," said Pruett. "Students found their way around a few speed bumps regarding access to technology by simply using their creative and artistic abilities." Adds Napier, "the entire school system has benefited from this project."

So, the next time you're on Facebook and you get friend requests from Romeo, Macbeth, and Hamlet, don't be surprised; it's simply a sign that a group of students are excited to be learning about Shakespeare.
Lorraine Moore
Cowpens Elementary School, Glendale, SC Student Achievement Grant
2010, Winter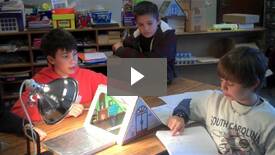 Students discover the power of a solar future

Elementary school science teacher Lorraine Moore wanted her students to "experience the power of solar energy -- as scientists and as citizens." Through the NEA Foundation-Nickelodeon Big Help grant partnership, her "Solar Science, Solar Society" project allowed her fourth and fifth grade students to examine solar power through experiments, hands-on investigation, and debate.
Matt Olson
Hinckley-Big Rock Middle School, Big Rock, IL Student Achievement Grant
2010, Winter



Students blown away by alternative energy project

Middle school teacher Matt Olson used his NEA Foundation-Nickelodeon Big Help Grant to help provide his students with knowledge and skills they'll need for the green jobs of the future. Students conducted research, designed and built solar cars and wind turbines, and investigated other possible solutions for the current energy crisis. Grant funding also helped build a wind turbine, which was used as both a learning tool and to help power the school.
Melissa Hamlin
Meadowview Middle School, Mount Airy, NC Student Achievement Grant
2009, Fall

Students infected with outbreak of learning

How does an eighth grade teacher instill in students a curiosity about science, while sharing essential life learning skills? An intriguing diagnosis tested by Melissa Hamlin, a science teacher at Meadowview Middle School, is to bring out students' inner scientist. She encouraged her students to choose a human disease to investigate and allowed them to incorporate other subjects to support their study.

Hamlin's holistic approach included the entire eighth grade class and blurred the traditional lines between subject areas.Students chose from among language arts, social studies, and mathematics to personalize their assignments and to grow their knowledge. "Students were learning about science in all of their core classes, which helped them understand the content better. They were able to see math beyond the classroom by creating graphs for their presentations," she said. "Students were able to make real world connections."

Hamlin's innovative instruction didn't stop there. Students researched the causes and treatments of the diseases they selected to study, and they created action plans to respond to an outbreak. And, to build their public speaking skills, they presented their findings to their peers. "Students learned so much from the project. They really enjoyed researching the diseases but were interested in learning about other diseases as well," Hamlin said.

With funding from the NEA Foundation's $5,000 Student Achievement grant, she was able to make the most of technology, purchasing computers, and Smart Document cameras that transformed the Smart Boards already installed in the classrooms into an interactive digital display. Technology, however, was only one element of the learning process. "The NEA Foundation funding provided the boost to make our activities possible, and sent a message to the entire county that funding at the national level is within their reach if they are committed to excellence," Hamlin said. "This project strengthened the overall curriculum for both the teachers and students."

Success factors:
Peer-to-peer communication, for both teachers and their students, became a core theme.
Integrated units were developed with surgical precision as Hamlin challenged faculty to share topics among their colleagues and reinforce key concepts in their classes.
Students were evaluated by a rubric created and maintained by an interdisciplinary team. Each core teacher evaluated the content portion in their subject area.
The classroom was structured as a dynamic environment. Customized, individual assignments allowed students to work at their level of readiness.
Hamlin challenged students to make group decisions on the content of their work and to learn from their classmates.
She made use of community assets by recruiting several local experts to serve on a panel to judge the highest rated student presentations.

The results:
Any concerns about individual subject areas being diluted were overshadowed by the time and effort students devoted to their presentations.
Top students gained recognition from their work, while others gained confidence with public speaking.
Students who rarely spoke up in class were among the most verbal when given the stage. In one exceptional case, a student with a speech impediment delivered his project without stuttering.
Melissa Wantz
Foothill Technology High School, Ventura, CA Student Achievement Grant
2009, Fall

Project Hello: Love grows between California and Sierra Leone students

What happens when a high school student in Ventura, California, connects with a peer in a struggling, war-torn nation and asks, "what is your biggest fear?" Imagine the concern when Saffie Turay in Freetown, Sierra Leone, replies, "I fear being a failure in life because I will be poor, and poverty is a disease that reduces a human being from being an active member in society to becoming a dormant member who could do nothing for the development of the society and has no say in that is happening around him." Suddenly, a student in Ventura is reminded that fears of spiders, snakes and heights are inconsequential.

Three years ago, Foothill Technology High School English teacher Melissa Wantz was struck by an idea while driving to school. She was inspired by Ishmael Beah's haunting personal account of the war in Sierra Leone, "A Long Way Gone," to think differently about classroom boundaries. Wantz decided to try to tap into the power of social media by creating an international social network for students at Foothill and Sierra Leone, culminating in a book of art and stories. Her colleagues, including world history teacher Cherie Eulau, were enthusiastic about getting involved.

"The project grew and became a part of us and was embraced by the school culture on several levels," said Wantz. "This year it will be highlighted as a part of the graduation ceremony." With Beah's book as the inspiration, "more kids are looking globally; this allowed them to do something super meaningful," she said.

When she applied for a NEA Foundation grant to fund her project, the teacher admitted, "I didn't know anyone in Sierra Leone." Through a contact with The Peace Corps, Wantz was referred to Seattle-based non-profit Schools for Salone, which led to a connection with a philanthropist in Sierra Leone named Joseph Lamin. He gathered students in the capital city of Freetown, and the grant provided vouchers for them to redeem at an internet cafe to correspond each week, allowing her students to build an emotional connection with peers through research and creativity.

Over the course of the 2009-2010 school year, 13 Foothill students embraced 13 new African friends who rarely had the opportunity to use a computer in a country where less than one percent of the population has access to the web. This unique social network of 26 students transcended the classroom and ultimately became a vehicle for social change.

As the project grew, Dr. Joseph Opala, professor and anthropologist at James Madison University and an authority on Sierra Leone, suggested Wantz turn the book idea into something far more significant: a storybook of literature for Sierra Leonean children. In response to a desperate shortage of books in Sierra Leone, Foothill's sophomores gathered African fables from out-of-print sources and helped produce a website and 300 copies of a book of traditional fables from five tribes, original art and poetry titled "Salone Stories."

A portion of the NEA Foundation grant was matched by Schools for Salone to pay for the book's illustrations by artist Julius Parker of Freetown. In June 2009, Wantz and Eulau delivered 200 books to Sierra Leonean teachers and children. Schools for Salone has since raised money that will be used to reprint about 4,000 copies of "Salone Stories" for use in 16 schools in Sierra Leone.

While they were traveling in Sierra Leone, the teachers saw the great need for education, which was severely disrupted by ten years of war. "We started thinking, wouldn't it be nice if we could raise some money to help build a school," said Wantz. Upon sharing the fact that it would take $50,000 to build a new school, Wantz and Eulau were a bit surprised by their students' immediate reaction: "We can do that!"

And so, Foothill seniors, who read the Beah book as sophomores, committed to raising money to build a concrete school in the village of Lungi to replace a mud and thatch hut. They met their goal in April, and the new K-6 school is currently under construction with an opening date set for this summer.

"We learned how much people in Sierra Leone value education by how fast they have moved on the school construction," Wantz said. Foothill senior Anna Geare may be taking the Senior Hero Project a giant step farther.

''I may not have met the children of Lungi or Sierra Leone, but after going through thousands of photos and videos, I now recognize their faces. As a result of this project, my interest in Africa has transformed into passion," said Geare. "This project has inspired me to join the Peace Corps after my four years at Occidental College. I hope to work in Africa and maybe even have the opportunity to visit Lungi village and witness the people I have impacted and the school I helped build.''
Toni Allison
Winograd K-8 School, Greeley, CO Student Achievement Grant
2010, Summer



First Graders Explore Ecology

Toni Allison, a science teacher in Greely, CO, drops 300 bags onto the floor of her first grade classroom at Winograd K-8 School. The billows of plastic represent the number of grocery bags the average American tosses out each year. Then, she asks, "If we gave you a reusable shopping bag, would you use it? Of course, they say yes." Her first graders better understand their green footprints after visiting a local landfill, where they saw truckloads of waste dumped into the gaping canyon— an event that happens more than 200 times a day.

The field trip was made possible by a $5,000 grant Allison and her colleague Audrey Forgue received from the NEA Foundation and Nickelodeon. Instead of an Earth Day event lasting just one day, Allison integrated a yearlong ecology unit into science curriculum using the Think Earth Environmental Education. For three years, more than 160 students participated in the project, receiving goodie bags of green supplies— from reusable water bottles and sandwich bags to shower timers and compact fluorescent light bulbs. Their assignment? Use them and teach family members how they can do their part.

Students also learned what happens when pollutants enter water systems because they witnessed it during a field trip to a water treatment facility. They witnessed even more clean-up and conservation at a local power plant, a recycling center, the Rocky Mountain Bird Observatory, and elsewhere, depending on that week's unit.

"Before, we taught the tree unit at the beginning of the year," Allison said. "Now, we can connect it all the way through the year into our Africa unit to speak specifically about the region of the rainforest." During the winter holidays, students visited a Christmas tree farm to review the seed life cycle and learn how trees can be recycled into mulch.

Allison's initial grant proposal included a district-wide recycling program, but the district found other means to implement and sustain such a program. With the extra funds, she stretched her project over three years, packing in seven field trips a year. "We're lucky if we even get to go on one field trip in town with how money is right now— at any grade level," she said.

One day, Allison hopes her project will enter with the district-wide curriculum at the elementary level. Meanwhile, its residual effects have already trickled through the halls of Winograd. The school, much like the town of Greeley, has a diverse population of nearly 50% Hispanic students and 25% English language learners. "We have pockets that are pure poverty, and we have pockets that are high socioeconomic levels," Allison said. Some families already used eco-friendly products, while others learned about them for the first time. One parent wrote in a letter to Allison, "My daughter was so excited about planting her small pine and educating us as a family." Allison's first graders have even started reminding her to use the backs of papers before throwing them away. That's a request she's happy to fulfill.
Tracy McMartin
MacGregor Elementary School, Bay City, MI Student Achievement Grant
2009, Fall

A Photograph Is Worth A Thousand Vocabulary Words

When first grade students at MacGregor Elementary School walk into a classroom and instantly ask, "Are we writing in our portfolios today?" it is one indication that high expectations can create surprising results. It also provides a clue about why their reading scores are on the rise. Their teacher, Tracy McMartin, a NEA Foundation Student Achievement grantee admits, "In 21 years of teaching, I have never seen kids so motivated to write."

The inspiration for the innovative classroom project that initiated these impressive results was McMartin's fascination with photography. An amateur enthusiast with no formal training, she was able to convey her love for taking pictures and create much more than a passing interest among her students.

Their curiosity about her camera made her wonder how her students would respond if they were given hands-on experience with cameras of their own. Upon receiving the NEA Foundation grant that enabled her to purchase cameras, McMartin and her students were rewarded with an all-encompassing learning experience. Students embraced the exercise like ducklings to water, laying to rest any initial concerns about putting technology into young hands. "Not only did the 15 cameras survive," she said, "the best thing is that the durable Canon cameras can be used for the rest of my teaching career."

The Project
Digital cameras make it possible for anyone to point, shoot and produce great pictures. But there's more to photography than just clicking away with a digital camera, and these are things that are learned only when you take the time and make the effort to learn photography fundamentals.
First graders were challenged with assignments in science that included seasonal change and buoyancy, math that included shapes and perspectives, and self-discovery that included friendships, community, and personal observations. The formal name of the program, Photography as a Focused and Reflective Learning Tool, is much more than a label. Developed by McMartin with assistance from Kathy Pounders, the program jump started the creative instincts of first grade students who used photography to document their experiences.

From the moment the NEA Foundation grant check arrived, the teachers and students celebrated by involving students in the decision-making process on equipment and by ramping up the curriculum. The first class of 29 students had the unique opportunity to use the cameras to document their learning by producing an end-of-year photographic portfolio. Coincidentally, most of McMartin's students are from disadvantaged families. McMartin describes the arrival of the cameras in simple terms, "suddenly the students felt validated and important." McMartin adds, "Children used photographs in authentic ways, to construct meaning and to learn to trust themselves and their learning."

Part of the project asked the children to document their every day realities. Each was assigned a "photography buddy," captured images of their peers, and created a narrative component to fully express their experiences with words to compliment the documentary-style photography. By the end of the year, each student had accumulated a library of 600-700 photographs that were saved to a DVD and shared via a digital photography web account on SmugMug.

The Results
The most significant by-product of the school year was the increase in writing proficiency. Motivation was high as students produced detailed stories and wanted to document their findings via personal portfolios.In the process they learned the value of decision making and being self-critical. During a critique one student might exclaim, "Oh my, that is a terrible picture" or "what do I need to do to make it better?" The students' primary concern was to put their best effort on display.

After viewing the creative output of the first graders, teachers from MacGregor Elementary had to be corrected that the work was not that of adults. The same teachers who expressed concerns about camera safety were suddenly interested. "The whole school knew and wanted to apply the program school wide," McMartin said. "The original 15 cameras are still in use and they are used all the time. Our children wanted cameras for Christmas. They just want to know that someone cares."

The most important benefit of the program, McMartin concluded, was self-awareness and knowledge that the project provided and that will help students for the rest of their lives. "As students embrace their own experiences they are also building self-esteem."